7 Reasons
7 REASONS WHY PEOPLE ARE CHOOSING BEAR AS THEIR GO-TO MEAL REPLACEMENT SHAKE
After years of developing businesses, serial entrepreneur Max Baumann started one that ignited his ambition and aligned with his healthy lifestyle: BEAR POWERFOODS. Since 2017, BEAR has become the most powerful shake on the market, delivering results you didn't even know were possible. Let's dig a little deeper into what makes BEAR not just an exceptional meal replacement shake, but one with everything you need to be the most powerful you that you can be.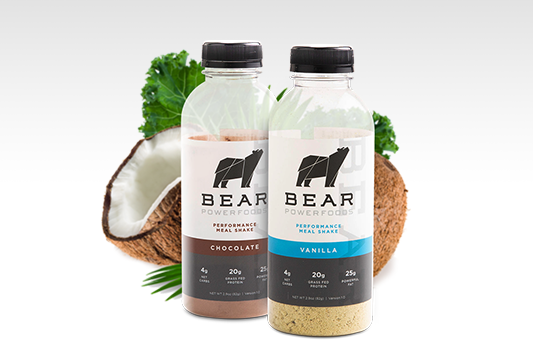 1. Developed by world-class nutritional scientists
When Max Baumann realized that eating 5 chalky protein bars a day wasn't sustainable, he turned to a team of renowned food scientists and chefs. What they created was a perfectly-formulated mix of the best possible ingredients, pre-bottled for ultimate convenience.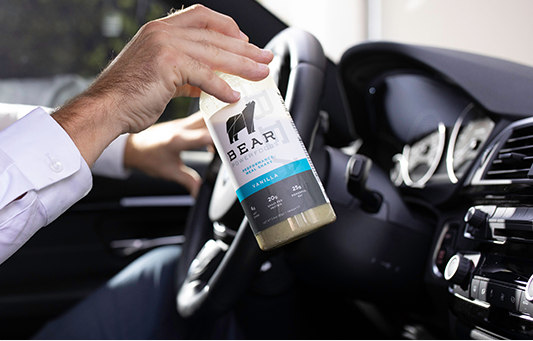 2. BEAR is great tasting and conveniently packaged
BEAR is packaged for ultimate convenience. Each bottle comes with 400 nutrient-rich calories in powdered form. You simply add your liquid of choice and shake. This semi-ready-to-drink format allows for a more portable beverage, and allows you to customize BEAR based on your taste preferences. With two delicious flavors and the ability to customize, you'll never experience a better-tasting meal shake.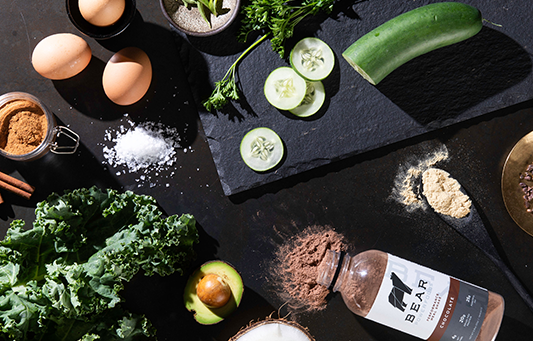 3. BEAR has the highest bioavailable protein on the market to support lean muscle mass.
Bear uses grass-fed whey protein isolate and grass-fed collagen blend. Most protein sources use cheap pea protein or milk (whey) protein, and both have significantly less bioavailability than grass-fed whey protein isolate. This means each gram of protein has a higher usability by the body to support muscle recovery and repair.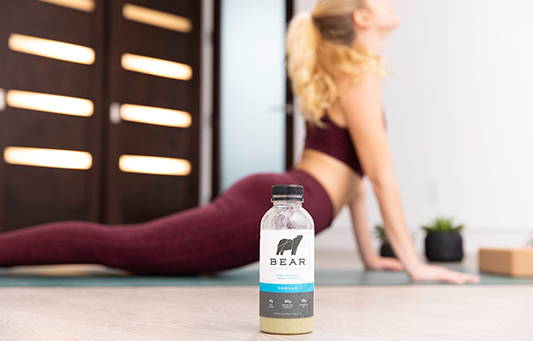 4. BEAR is keto-friendly and designed for performance
What is "keto", and what does it mean to be "keto-friendly"? Glad you asked! Keto is a high-fat, low-carb diet which forces the body to burn fat for energy. BEAR is loaded with healthy fats from coconut-derived MCT oil. Each bottle contains more healthy fats than one 1 serving of avocado, clean protein from grass-fed whey and collagen, and a very low net carb count. Lots of people have started the keto diet to help reduce body fat and increase their energy. The Keto diet is currently one of the fastest-growing diets in the world.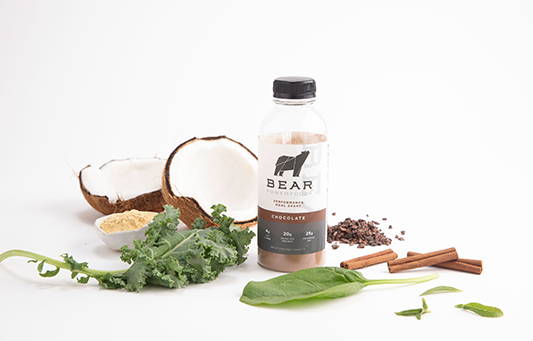 5. Filled with 23 vitamins and minerals for immune support
One BEAR shake is filled with more vitamins and minerals than a kale salad. With your full daily complement of carotenoids, vitamin C, vitamin K, folic acid, iron, and calcium, BEAR ensures your body has all the nutrients it needs to function at peak performance.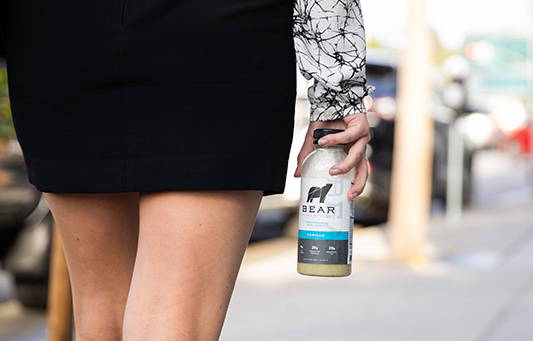 6. More probiotics than 4 kombuchas for digestive health
Getting your daily probiotic intake isn't easy. That's why many resort to questionable-tasting fermented drinks to get the job done. BEAR contains more probiotics than 4 servings of kombucha, while also providing you with other essential ingredients to promote gut health.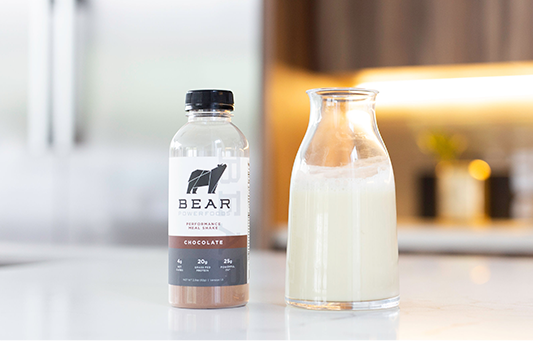 7. Get BEAR delivered straight to your door monthly
Meal shakes should be convenient -- that's the point, right? Well, it doesn't get more convenient than this. Purchase your choice of BEAR shake, and it will be delivered straight to your door every 30 days. You'll never have to worry about re-ordering or wait in line for a shake
BEAR is not just an exceptional meal replacement shake, but one with everything you need to be the most powerful you that you can be.